Water Damage Restoration Process in Edison & Bridgewater, NJ
You may not have control over water damage-related accidents, but you have the power to call a good restoration company that can help you get back to your everyday life with their prompt service. When water damage occurs, it is best not to get stressed and leave all the worry to the experts of ServiceMaster Professional Restoration. As our IICRC-certified experts employ state-of-the-art technology and superior water damage restoration process, they can get your property back to its pre-loss condition.
Are you suffering from a water damage-related crisis? Are you looking for a restoration company that can provide you with the best result within your budget? Then you are in for good news. ServiceMaster Professional Restoration has the best track record regarding water damage restoration. Our process would ensure that you get your place back just like before. Contact us online or call us at 732-800-6262 to book our services like emergency water removal, appliance failure, sump pump failure, and more.
Water Damage Restoration Process
At ServiceMaster Professional Restoration, we decide on the restoration process depending on the situation of the damaged place. Following is a general water damage restoration process we will follow-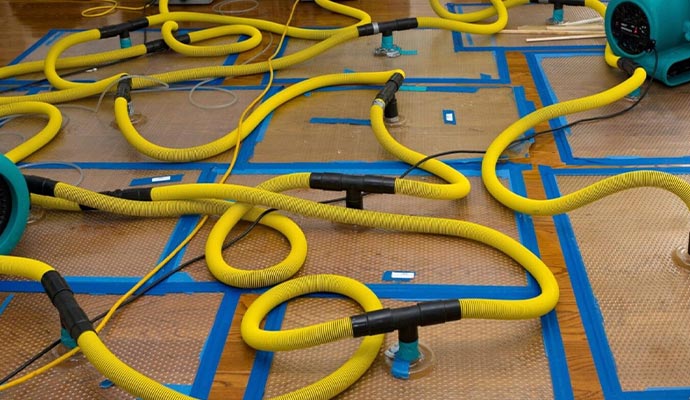 Inspection- First, we will inspect the whole water-damaged place to understand the situation.
Assessment- Based on our preliminary inspection, we will make an assessment and make a plan for the restoration procedure.
Water Removal- The water will be removed as soon as possible with our water extraction and water mitigation process.
Content Restoration- We will try to recover and restore all valuable items.
Drying & Dehumidifying- After water removal, we will dry the whole place with our industrial-graded huge fan. We will also employ a dehumidification service to ensure no mold threat.
Sanitization- After cleaning the whole place, we will sanitize it.
The Reasons to Recruit ServiceMaster Professional Restoration
We are not only the best in the industry, but we have a team of highly skilled professionals that make us a lucrative company. Here are a few more reasons to choose us:
Licensed & Insured
IICRC Certified
24/7 Emergency Response
Free Estimates
Works Directly with Insurance Companies
Latest Technology
Locally Owned & Operated
If you live in Hillsborough, East Brunswick, South Plainfield, and other service areas, then make sure to call us at 732-800-6262 for free estimates and to know more!