Water & Fire Damage Restoration in Bloomsbury
There are many ways your properties can be damaged by fire and water. It's a matter of stress for most homeowners because water & fire damage can greatly hamper your daily life. Taking the right decision at that moment can get very difficult. Contacting a professional restoration company is the first thing you should do. ServiceMaster Professional Restoration is one of the leading companies in this restoration business all over Bloomsbury. We provide a comprehensive water & fire damage restoration for your property.
You can schedule a meeting with us. Our highly qualified experts are here to help! Click the link here to reach us online or you can simply call us at 732-800-6262. We offer free estimates.
Restoration Services We Offer in Bloomsbury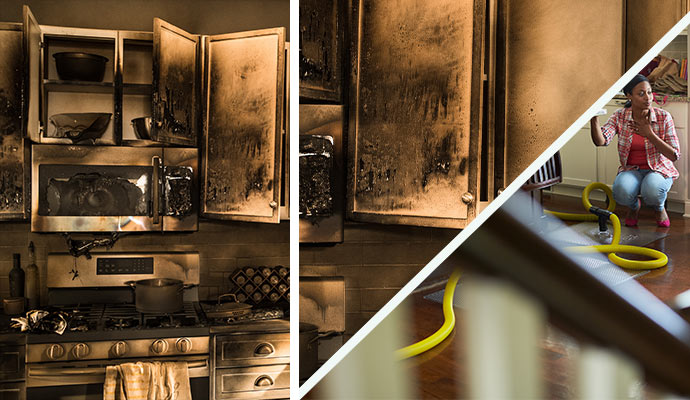 ServiceMaster Professional Restoration is the most trustworthy and reliable restoration service provider across Bloomsbury. We are IICRC & BBB-certified business, serving residential & commercial properties for a long time. We have well-trained experts who are experienced in using cutting-edge tools. Other than water damage & fire damage restoration, we provide other services such as-
Mold Remediation: Mold growth in your home or workplace doesn't only cause harm to your property but also endangers the health of the occupants. If you smell any musty odor in your basement or crawl space, there's a high chance of mold development. We have a qualified team of experts to serve you with professional mold remediation.
Biohazard Services: Our biohazard cleanup service is a detailed process of cleaning & sanitizing a contaminated space with hazardous substances. These can occur due to accidents, crime scenes, or other situations that can pose significant health risks. Our high-quality services provide a safe and healthy environment.
Besides, we offer a wide variety of services that include storm damage, disinfection, reconstruction, post-construction, content cleaning, and more.
Rely on Us for Top-notch Fire & Water Damage Restoration in Bloomsbury
Water and fire damage can baffle your life and take away peace of mind. We, as your restoration partner, ensure that you can go back to your daily life as quickly as possible. Contact us by clicking here or call us at 732-800-6262 for 24/7 emergency services.