Restoration of Roof Damage from Storm in Edison & Bridgewater
When storms strike, your roof becomes the first line of defense against nature's wrath. But, storms can result in roof leaks, missing shingles, and even structural damage. The aftermath of a storm demands prompt action. Ignoring roof damage can lead to more significant problems.
ServiceMaster Professional Restoration is your trusted partner in tackling storm-damaged roofs. Our licensed, insured, and IICRC-certified expert team offers 24/7 emergency response and works directly with insurance companies to streamline the restoration process.
We are locally owned and operated and provide superior services to local clients in Avenel, Baptistown, Mountainside, and nearby cities. So, don't delay! Simply give us a call at 732-800-6262 and get a free estimate.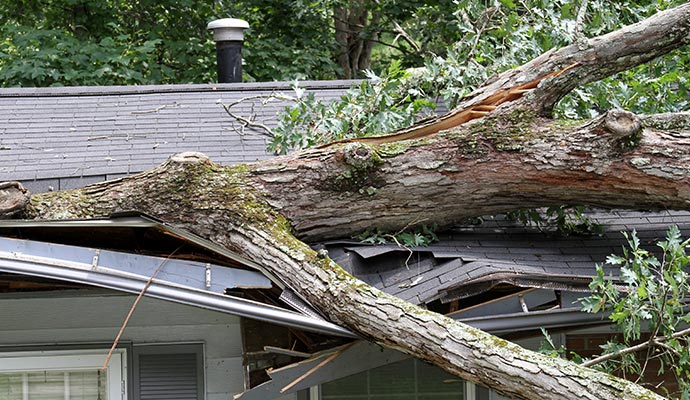 Types of Roof Damage from Storms
Missing or Damaged Shingles: High winds can dislodge or tear shingles from your roof, leaving it vulnerable to leaks and further damage.
Hail Damage: Hailstones cause roofing materials to become weakened, which can lead to leaks.
Roof Leaks: Heavy rainstorms can expose existing vulnerabilities, causing water to penetrate through damaged areas, resulting in leaks and water damage inside your home.
Fallen Debris: Storms can bring down tree branches or other debris, which may impact and damage your roof, including cracked or displaced tiles.
Structural Damage: Severe storms, including tornadoes or hurricanes, can cause significant structural damage to the roof, including collapsed sections or uplifted roof materials.
Let ServiceMaster Professional Restoration Handle Your Storm-Damaged Roof
With a proven track record of helping our neighbors for over 25 years, ServiceMaster Professional Restoration is the trusted choice for storm damage restoration. Our team of experts combines experience and expertise to deliver top-notch results.
We utilize the latest technology and industry best practices to assess and restore your storm-damaged roof efficiently and effectively. As a BBB A+ rated company, we are committed to providing exceptional service and customer satisfaction. Call us today at 732-800-6262 or click here to schedule your appointment today.