Reliable Water and Fire Damage Restoration in Clinton
Water and fire damage can bring severe destruction to your property if immediate action isn't taken. Water damages your walls and ceilings, corrode your plumbing, destroy your electrical systems, and contributes to mold growth.
On the other hand, Fires can cause significant damage to properties, regardless of their size, due to the rapid spread of flames. The resulting smoke and soot particles can also create hazardous indoor air quality.
ServiceMaster Professional Restoration offers the best water and fire damage restoration service. Our services include cleaning the entire property and implementing measures to enhance indoor air. If you face such problems around your properties, you can contact us by calling at 732-800-6262, or for online communication click on the link here.
Additional Services We Provide in the Clinton Area
ServiceMaster Professional Restoration is widely considered the most reliable and dependable company for restoration services in the entire Clinton. We are IICRC and BBB-certified and have years of experience in this industry. The professionals working here are experts at handling cutting-edge tools. So, you can be confident that your emergency needs will be fulfilled in a short amount of time. Along with water damage restoration & mold remediation, we also provide the following services: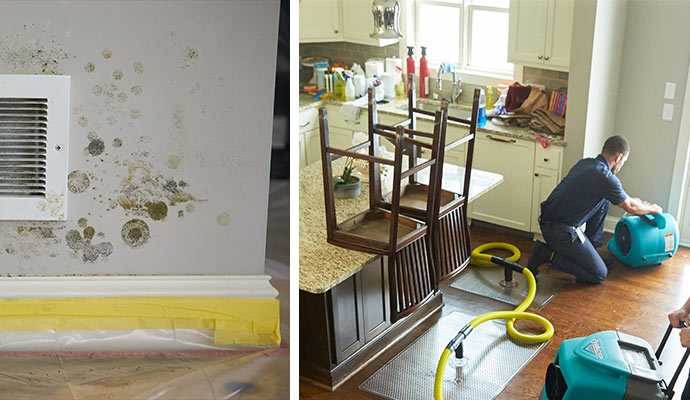 Mold Remediation: Mold development is not something that should be put off or ignored. You will find mold growing on the ceiling, in the corners of your basement, or in places with insufficient ventilation. The mold poses major health issues for the occupants as well as cause severe structural issues. ServiceMaster Professional Restoration understands how homeowners suffer due to these damages. So, we provide the best mold remediation services across Clinton.
Storm Damage: We offer a complete solution to restore properties that have been damaged by storms, including cleaning up debris, repairing structural damage, and mitigating water damage. Our team is equipped to handle all types of storm damage, from hurricanes and tornadoes to floods and thunderstorms.
Protect Your Home from Water and Fire Damage
We offer quick and effective water and fire damage restoration services so you can go back to your daily life as soon as possible. We don't use any chemicals that are harmful to the environment and your health. So don't be late, call us at 732-800-6262 or contact us online here.