Floor Water Damage Restoration in Edison & Bridgewater, NJ
When a water disaster strikes the first thing that gets affected is the floor. Whatever the reason for water damage whether it's due to flooding, heavy rain, storm, leak, burst pipe, or anything else, your floor is bound to suffer. The more you leave standing water for long the more the floor suffers. Moreover, mold only takes 24-48 hours to form on a wet surface, so there is a fear of that as well.
Do not leave in fear, if you suffer from floor water damage and are in need of our assistance then do not forget to contact ServiceMaster Professional Restoration. We are there to provide all kinds of water damage-related services like emergency water removal, appliance failure, sump pump failure, and more. Contact us online or call us at 732-800-6262 to book all our services within your budget!
Signs of Floor Water Damage
If you look for some signs of floor water damage and call a good restoration company like ServiceMaster Professional Restoration soon enough, then you can save yourself from some costly future floor replacement or repair. Following are some signs you should look for-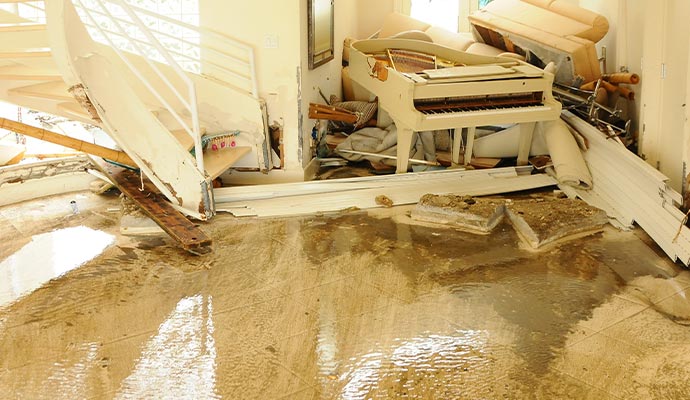 Discoloration- Look out for places on your floor for discoloration. If you notice that there are spots where discoloration has occurred then it could be clear indication of floor water damage.
Stain- if your place has suffered from water damage and the floor has taken a toll then you will definitely notice stains. A stained floor is another sign you should be careful about.
Mushy Floorboards- It is an indication of rot caused by water damage if your boards bounce a bit or feel like they may break. The flooring will need to be replaced. It's possible that water has gotten into the subflooring and done some damage there as well.
Bulging- It is possible for hardwood planks to expand, press against one other, and rise as they absorb water. Small cracks in the floors may also collect moisture if water still has a chance to fall on them.
Mold or Mildew- Your hardwood floor may have mold if you observe black, gray, green, and other discolored patches on or between the planks.
Employ ServiceMaster Professional Restoration for the best Floor Water Damage Restoration 
There is no other company out there that can provide you with the most satisfactory service for disaster restoration & cleanup. Our IICRC certification adds to our other amazing qualities. We are licensed and insured and we employ the latest technology in our services so that we can get the best results. When you depend on us, you won't have to worry about your insurance claims as well. If you live in Dunellen, Metuchen, South Plainfield, and other service areas then make sure to call us at 732-800-6262 for free estimates and to know more!