Water & Fire Damage Restoration in Califon
Califon is a charming city that is well-known for its scenic landscapes and vibrant locals. Unfortunately, disasters like water and fire damage can strike unexpectedly, leaving property owners in distress. In such challenging times, it is necessary to have access to reliable water damage and fire damage restoration services to help restore your property to its pre-loss condition.
With years of expertise and a commitment to excellence, ServiceMaster Professional Restoration is your trusted partner in restoration and cleanup service. We strive to deliver exceptional service and exceed your expectations throughout the restoration process. Our IICRC-certified restoration professionals are active and well-equipped to handle any task. To get our services, dial 732-800-6262 or book an appointment for a consultation.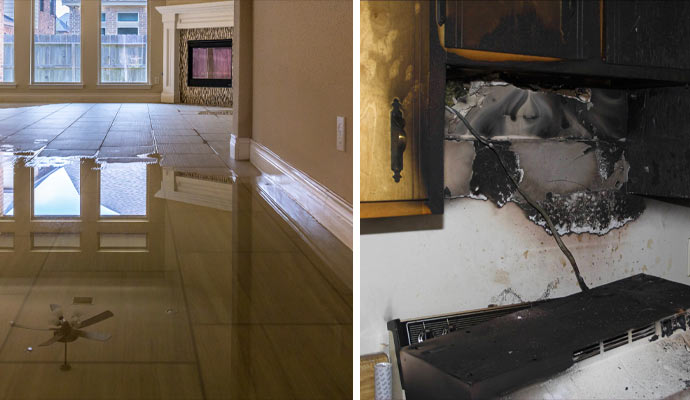 Necessity of A Professional Restoration Service
Getting the services of a professional restoration company like ServiceMaster Professional Restoration offers numerous benefits and is often a necessity. Here are some reasons:
Expertise and Experience: We as a professional restoration company have the necessary expertise and experience to handle various types of damage.
Rapid Response: Time is of the essence when dealing with water or fire damage. Our services offer a prompt emergency response, available 24/7, to mitigate the damage quickly.
Advanced Equipment: ServiceMaster Professional Restoration invests in advanced restoration equipment to ensure effective restoration. We have specialized tools for water extraction, deodorization, and odor removal.
Comprehensive Restoration: Whether it's water damage, fire damage, or both, we have the knowledge and tools to handle all aspects of the restoration process, including structural repairs, content cleaning, and disinfection services.
Insurance Assistance: Dealing with insurance companies can be overwhelming, especially during a stressful time. Our professionals have experience working with insurance providers and can assist you throughout the insurance claims process.
Contact Us for Restoration Services in Califon
When your property in Califon experiences damage from water, fire, or other disasters, call at 732-800-6262. We have the required tools and techniques to restore your damaged property to its pre-damaged condition.