Wind Damage Restoration in Bridgewater, Somerset & Edison, NJ
Powerful, severe winds are a powerful force of nature, capable of destroying residential and commercial properties. From severe storms to tornadoes, wind damage can leave your property devastated, with broken windows, damaged roofs, and structural instability.
ServiceMaster Professional Restoration provides the comprehensive cleanup, repair, and restoration you need after wind damage. We know rebuilding your property after severe wind damage doesn't happen overnight, but we're with you every step of the way as you navigate a difficult recovery after a punishing wind storm.
We assist customers in Springfield, Dayton, Clinton, New Brunswick, Bloomsbury, Old Bridge, and throughout our New Jersey service area. Call us today at 732-800-6262 for reliable wind damage restoration. For a service request, contact us online to consult with a ServiceMaster professional.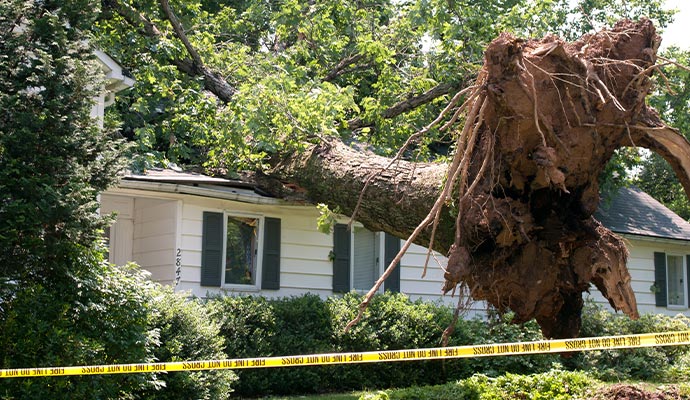 Why Us For Wind Damage in Somerset?
ServiceMaster Professional Restoration is the provider with solutions for wind damage restoration across New Jersey. Let us assist you with the following:
Roof damage: The roof is the most exposed part of a house, making it highly susceptible to wind damage. Strong gusts can lift and loosen shingles, tear off roofing materials, or even completely remove sections of the roof.
Broken doors and windows: High winds can generate significant pressure differentials, causing windows and doors to shatter or become dislodged. Broken windows not only expose the interior to rain, debris, and pests but also compromise the security of the property.
Siding and exterior damage: The siding and exterior of a house serve as protective barriers against wind and external elements. However, strong winds can cause the siding to crack, warp, or become detached.
Structural damage: Intense wind forces can weaken the structural integrity of a residential property. This may result in compromised load-bearing walls, leaning chimneys, or even partial collapses.