Appliance Leak Cleanup in Edison & Bridgewater
Dealing with appliance failure is bad enough without adding the headache of water damage that comes with it. When water-related appliances fail, however, they tend to fail big. A malfunctioning refrigerator, dishwasher, water heater, or washing machine can spill gallons of water across your floor at a moment's notice or quietly contribute to unseen puddles until the damage is done. Either way, be sure to reach out to ServiceMaster Professional Restoration when you need to restore your property following an appliance failure.
At ServiceMaster, our crews provide more than just water damage restoration services, including appliance failure restoration. We also offer fire damage restoration, reconstruction, disinfection, mold remediation, and other services for homeowners & business owners in Edison, East Brunswick, Bridgewater, Somerset, and dozens of other cities we serve in Middlesex, Somerset, Union, Mercer & Hunterdon counties. For more information, call 732-800-6262 or click here to make an appointment ASAP for services at your New Jersey property.
Appliance Failures that Create a Need for Water Damage Restoration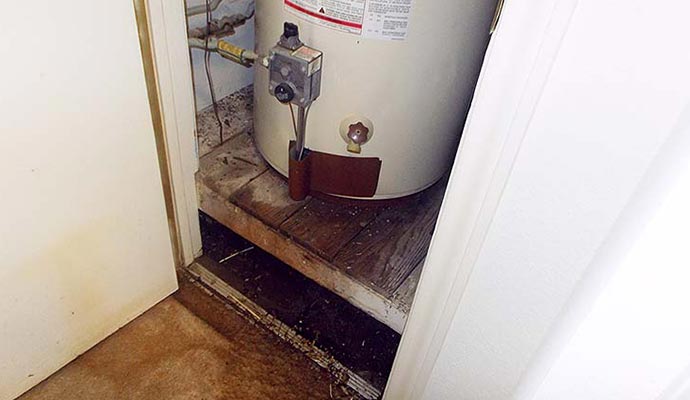 Dishwasher: When a dishwasher leaks, it is usually because of a clogged or damaged drain line or supply line. Drain line leaks often contain bacteria. Supply lines quickly cause an overflow because of heavy water pressure and take professionals to safety remediate the damage.
Water Heater: Water heaters can leak because of damaged or cracked pipes, a leaking tank, or broken fittings and seals. Malfunctioning water heaters also have the potential to burst, releasing gallons of water into your home in the blink of an eye, creating a need for a professional water mitigation company.
Refrigerator: Refrigerators that come with a built-in icemaker have a supply line for water. This supply line can burst or crack and cause a significant amount of water damage. Some refrigerators can spring leaks from the base, which can go unnoticed for a long time. We can do the drying and remove any mold that may have developed from the leak.
Heaters & Air Conditioners: Heating and cooling equipment are prime candidates for leaks. That is why it is essential to have a professional inspect your heating and AC systems for leaks, damage, and blockages. If you do have water damage, we can remove insulation, ceilings, and other damaged areas to ensure additional issues like mold.
Washing Machine: A leaky pipe or broken hose leading to your washing machine can cause a major indoor flood because the water going through it will be highly pressurized. We can remove the water and dry the walls and other structures as well as dehumidify the areas that were affected.
Let Us Restore Your Property After an Appliance Failure in Bridgewater, Somerset, & Edison
Our licensed and insured team is always ready to save your home by providing appliance failure water damage restoration services. Our emergency crews stand ready to roll on a 24/7/365 basis when you face appliance failures, including sump pump failures, and frozen and burst pipes. When you need our services, call us at 732-800-6262 or click here to make an appointment with our IICRC-certified technicians at your property in Edison, Bridgewater, Somerset, and other cities throughout our service area.