Smoke Damage Assessment in Edison, Bridgewater & East Brunswick
After a fire, the impact of smoke damage can be far-reaching and stressful, requiring a thorough assessment for effective restoration. The American Red Cross states that smoke is responsible for more deaths than flames in residential fires, highlighting the importance of addressing its effects promptly.
At ServiceMaster Professional Restoration, our team conducts detailed smoke damage assessments using well-researched techniques and state-of-the-art equipment. We understand that smoke can permeate various surfaces, leaving behind residue, discoloration, and persistent odors.
Our experts identify the extent of smoke damage, including affected hidden areas and develop tailored restoration plans to eliminate harmful particles and restore the air quality of your property. If you are a homeowner or business owner in Somerset, Hillsborough, Bedminster, and surrounding cities and need smoke damage restoration service, just give us a call at 732-800-6262.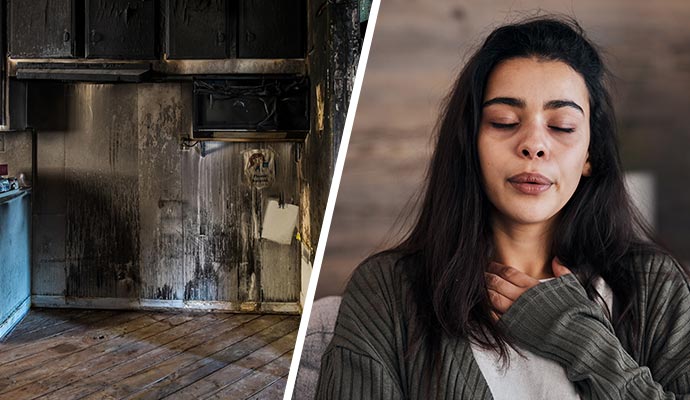 Impact of Smoke Damage on Property & Human Health
Lingering Odors: Smoke leaves behind strong and persistent odors that can permeate various materials, including walls, furniture, and fabrics.
Discoloration: Smoke particles can cause discoloration on walls, ceilings, and surfaces, resulting in unsightly stains and blemishes.
Respiratory Issues: Smoke particles and contaminants can lead to respiratory problems, triggering allergies, asthma, and other health issues.
Corrosion and Erosion: Smoke contains corrosive substances that can damage metal surfaces, electronics, and appliances over time.
Compromised Air Quality: Smoke particles can affect indoor air quality, making it uncomfortable and potentially hazardous for occupants.
Call ServiceMaster Professional Restoration for Prompt Restoration
If you suffer smoke damage to your home or business, it is important that you act quickly. Don't hesitate to reach out to ServiceMaster Professional Restoration for prompt and efficient restoration services. Our experienced team is available 24/7 to respond to your call and start the restoration process immediately. Apart from fire and smoke damage restoration, our other services include:
Schedule your free estimate today by dialing at 732-800-6262 or clicking here.