Basement Waterproofing Services in East Brunswick & Edison
New Jersey is an area prone to flooding. This causes frequently flooded basements and poses a threat to the basement. ServiceMaster Professional Restoration is a locally owned and operated company that works to waterproof the basement. Our waterproofing not only protects the basement from dampness but also deals with molds and mildew. We are committed to keeping your basements dry.
If you live in the area of Somerville, Piscataway, East Brunswick, Bridgewater, or other neighborhood areas of our New Jersey service area, then we can help you out with 24/7 emergency response. Get in touch with us online or dial 732-800-6262 to clear out any doubts regarding our services.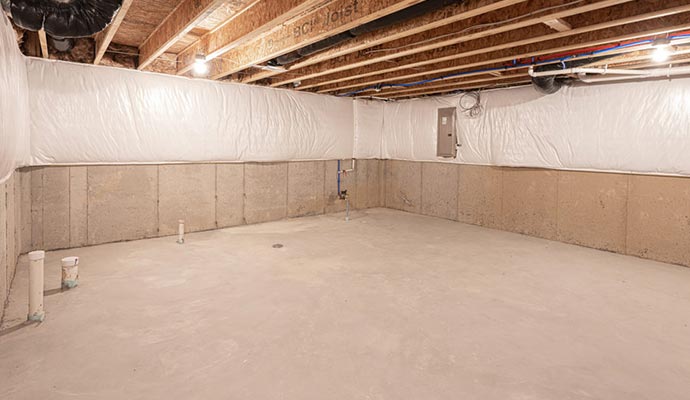 Reasons for Choosing Our Expert Basement Waterproofing
Ensure the dryness of your basement: With the latest methods and technologies, ServiceMaster Professional Restoration is committed to serving a basement free of moisture and dampness.
Longevity of home's foundation: When the basement is free of flooding and molds, the foundation of the home will last longer.
Long-Term financial savings: No more water damage and molds will take place after taking ServiceMaster Professional Restoration's basement waterproofing services. This will save the repair cost that might happen in the future.
Quality work: We use industry-leading equipment and materials and IIRC-certified technicians to ensure satisfactory quality of work.
Saves time: We take care of all the hassles and procedures of basement waterproofing and deliver the work done in minimum time to give you time to concentrate on other crucial matters.
Increase The Value of Your Home by Waterproofing Your Basement with Us
Over the decades, ServiceMaster Professional Restoration has built a relationship of trust and reliance with the people of New Jersey. We are rated 4.9 stars by customers for up-to-par service. Our certified technicians are always ready to serve you with superior flood damage restoration services. Get a free estimation and service guidance by calling at 732-800-6262 or clicking here.